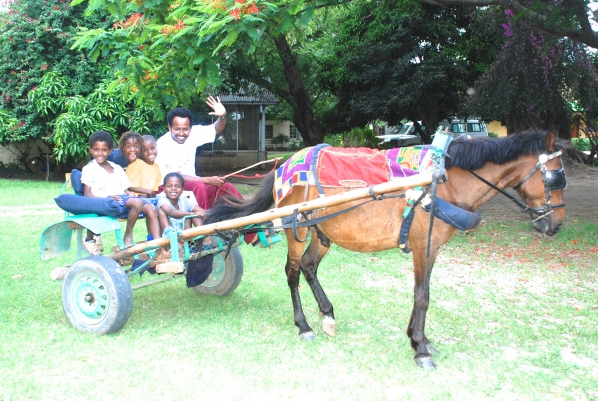 As we write this our hearts are heavy for those who have been impacted by the terrorist attacks in Nairobi. We are now in the third day of the standoff and we grieve with those who have lost loved ones in this situation. We also praise God for His protection in so many instances. We know students and their families who were in the mall during the attack, but were able to make it out. A close friend was delayed in getting to the mall and narrowly missed being there when the attacks started.  We also know others who had family members killed. We have mixed emotions of sadness and gratitude.
To give you and update on the last few months, it has been a blur of transition. In mid-June we packed up our things in Langano and drove to Addis. We were in Addis for a few days before heading to Switzerland for a conference. We spent about ten days in Interlaken at the conference before returning back to Addis to wrap up our time in Ethiopia. On July 5th, we flew to Nairobi and spent several weeks getting oriented before finally moving to Kijabe in August.
Overall, our transition to Kenya has been fantastic. The biggest hiccup happened after we and been in Kijabe for a few days. Moses was riding his bike down a steep incline at a high speed (of course!) and went over a drop-off. He crashed and ended up fracturing his jaw, splitting open his lip, and knocking some of his bottom teeth back into his mouth. We took him to the hospital where they wired his teeth in place until his jaw heals (about six weeks). The day after it happened Moses was telling everyone that he had an "epic" wipeout. It hasn't slowed him down at all!
Allyson is settling in well to her role as manager of Student Health. Although school just started a few weeks ago, it has been incredibly busy. In fact, as we write this she has just come off of working/being on call for 60 hours straight. There have already been quite a few patients with a number of issues including broken bones, concussions, malaria, etc. Since RVA is a boarding school for missionary children, the students come from all over Africa. It is a privilege to serve these families, many of whom are ministering very difficult areas.
Shane has been working on learning Swahili. It has been so encouraging to learn a Bantu language after sweating through Amharic. While it hasn't been easy, it has definitely been a shorter learning curve. He has been able to attend a training session and meet a few of the Sports Friends leaders. He had a positive meeting a few weeks ago with one of the Kenyan leaders he will be working closely with. This man has been living among an unreached people group for the last five years and is just now starting to develop relationships within the community – what a great example of perseverance in the midst of hard circumstances. Please pray for this man, Anthony, as he is encountering significant opposition from  the community.
Shane also spent time last week with the other Sports Friends leaders planning out the next twelve months.  Much of the discussions centered around expansion into strategic areas, deeper training and follow-up with the Kenyan leaders and how to best to divide up responsibilities. We are excited about what God has in store for coming year.
We see God's hand so clearly in bringing us to Kenya and are so thankful to be here. One of the things often discussed on the mission field is whether an individual or family is "thriving". For the first time in many years we feel that we are thriving. Moses and Mia are in kid heaven since they finally have friends around and we love being back with Hannah. The community of people in Kijabe had been so warm and welcoming and are so impressed and grateful for the leadership/friendship of SIM Kenya and RVA. While we grieve leaving Ethiopia, we rest in His provision and our hearts are full with thanksgiving.
Thank you so much for your friendship and support!