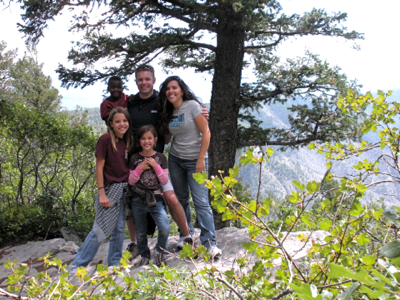 Well, we officially moved out of our house on September 11th. We got the last box moved out and then loaded all the kids in the car and headed out on our journey to MTI (Colorado) for training. It was really sad. I did one last walk-through in our house and just started crying. It feels so strange to leave a place we have so many memories in and head out into an unknown. It's also interesting doing this with kids because we want them to feel some sort of stability in the midst of all the chaos. All in all, all three kids have been troopers. We drove 11 hours the first day and stayed at a hotel in Albuquerque for a few days. We just felt like we needed some decompression time before we got to MTI. We were able to have some really great family time. In Albuquerque we were able to go to the State Fair, the zoo/aquarium, and to ride a tram to the top of Sandia Peak where we spent some time hiking.
On the way to Albuquerque we stopped at Cadillac Ranch… we were all excited to spray paint the cars, but it was raining. We decided to make a memory and traipse out there anyway. We got halfway and were covered in mud, so we decided it wasn't such a smart idea…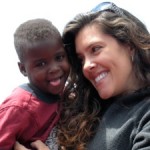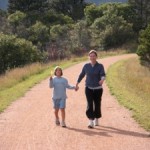 We are really enjoying getting to know Mary (the kids' teacher). She fits in really well with our family and we are excited to have her a part of our adventure. Mary is from Oregon and has three years experience as a 3rd grade teacher. She felt called to the foreign mission field this past spring and resigned from her job not knowing her next steps. Little did any of us know, God was preparing her to come serve together with us! What a blessing.
At MTI we have been blessed to be around other people going through the same life change as we are. There are about 36 in our training class – a mixture of singles, married without children, and about 7 couples with children. The training has been really helpful in helping us process expectations and realities, ways to deal with stress, conflict resolution skills – things like that. It's kind of hard to explain.
The past 3 days have been focused on conflict resolution, personality types, and adversity. Needless to say, the material has been very weighty. We are basically needing to come to the place where we are okay with suffering and we are truly having to face the areas we may suffer in. Things that are conceivably possible given the situation we are going into. Things like… the loss of a child, the loss of our own life, even just the grief of saying goodbye and missing our friends (already feeling this one!), the loss of our normal comforts, etc. It has been hard.
We are still waiting to hear back from SIM and this waiting game is taking a toll on both of us. We have been told we should hear something by Friday. The last we heard was that housing is very tight at Mukinge and that there may not be housing available until as late as March. Considering we are homeless after MTI, we have offered to go fill in wherever they might have a hole (someone on furlough, etc). Looks like they may be sending us to either Ethiopia or Kenya for a few months. I guess we will know more on this soon, and as soon as we know more, we will post another blog. Also, we are taking our car in to the shop tomorrow to see what in the world is wrong with it. Pray that is doesn't cost much!! Anyway, we sure do appreciate your prayers. We are feeling very burdened right now by the "not knowing". This journey has felt long and hard and we realize we haven't even gotten there! HELP! We love you guys and feel honored that you would lift us up before the King. Thank you for your support!