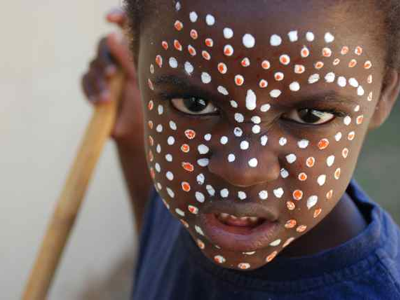 The past few months have been some of the toughest ones we have experienced here in Ethiopia. We are so thankful that so many of you are actively engaged with us in what we do here and are praying for the people of Langano. It's hard to imagine how we could press on living here without everyone's support. The heaviness and feeling of oppression that surrounds us where we live is almost to the point of unbearable right now. So much of what goes on here we are not able to post on our website.
Shane and Yonas have been stretched thin trying to keep up with the day to day crises. Shane has been working to write a new government which has proven to take more time than we expected. We are also still in the midst of the ongoing court cases, both of which received verdicts that we are appealing. With so many of our other teammates gone, Shane has had to take on a lot of other responsibilities – he is overseeing the school in Joan's absence, camp development in Jake's absence, and Dan and Kim are leaving for 2 months this Thursday. At that point we will be the only ones on the station. Thank you for your prayers!
Below is a recap of the past few months….
Egypt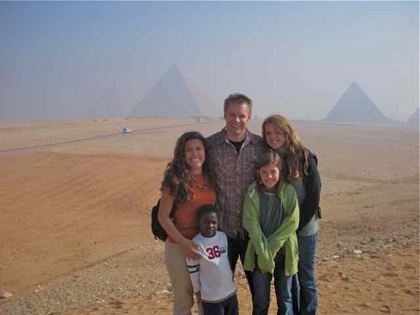 Our family was able to go to Egypt over Christmas right before everything broke loose politically. It was an amazing trip – we would highly recommend it to anyone. It was especially meaningful because we spent the whole fall semester studying Egypt for homeschool. Then we went on the ultimate field trip! Everything about Egypt was even better than we had hoped. Seeing mummies that were thousands of years old was completely exhilarating – who would have thought? The pyramids were breathtaking – so much grander than any book could ever describe. The only things that topped the pyramids and the Egyptian Museum were McDonalds and high speed internet access!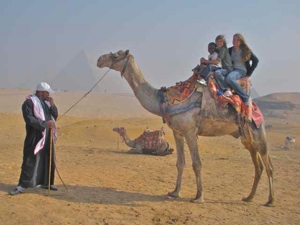 Baby Docho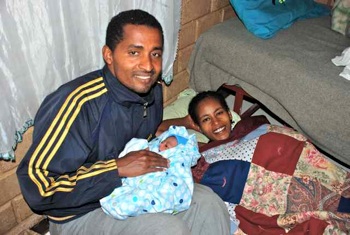 Abera and Adonach now have a healthy baby boy named Docho. He looks just like Abera. Abera looks just like his dad, too – those are some seriously strong genes! Two days after she delivered, Adonach went to stay with her parents in her home village which is traditional here. She will stay there for at least 2 months.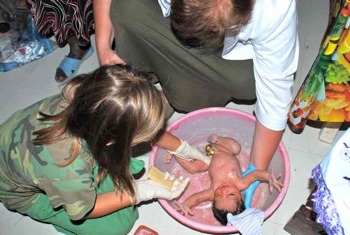 Damu & Ashiya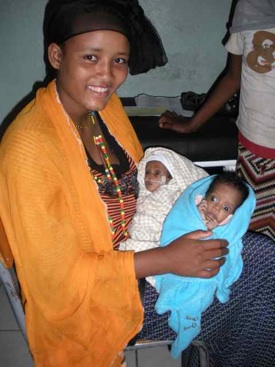 This is Kila with her twins Damu and Ashiya. Allyson delivered them right before Christmas. This picture was taken when they were 2 1/2 months old. Look how tiny they still are! When she brought them back in at 2 1/2 months, Damu was on her last breath. We did what we could and told Kila we weren't sure if her baby would make it through the night. We posted about her on Facebook and asked people to pray. These babies and their mom are still staying wih us at Mana Abdii and they are all doing so well! Despite being only 16, Kila is an incredible mom. She has been through so much with these babies and she continues to bond well. We are so proud of her. She has even started helping us teach other moms who are having trouble breastfeeding. Love this girl! Thanks for all the prayers.
"Mira"cle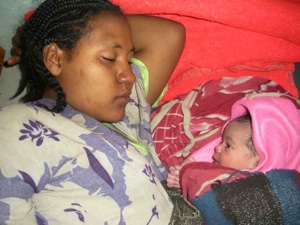 Allyson had a crazy delivery a few months ago. Here is an excerpt from an email she sent…
I had the craziest delivery of my life yesterday – a primip (first time to deliver) who came in with one of the baby's feet hanging out. About 20 minutes later, as I was getting things ready to transport her (long story as to why), the other foot came out, so we had to go ahead and try to get her delivered. It took about 5 minutes to get the arms down, then I worked for at least 5 minutes, hands up in her cervix and all trying to get the head out… to no avail. I finally couldn't look at the baby anymore – it was so disturbing, so I covered the mom up and was comforting her that her baby had died. We were going to go ahead and take her to the hospital so they could get the baby out. Well, she kept on having contractions and pushing, so I told her to just keep pushing while we got ready to go. And GUESS WHAT?? That "dead" baby popped out – navy blue and completely limp. Just "because" I checked for a heart rate and there was a very low one. So, I went for a full rescus, not thinking it would work, but why not? I bagged and prayed and did CPR and gave epi and prayed some more (I had 2 Ethiopian nurses there). Would you believe that slowly, that baby came around and ended up going home all pink and breastfeeding by lunchtime? (This was at 7 am). I told them I was naming their baby "Mira" for miracle. It was a great opportunity to talk to them about Jesus since I had been praying the whole time and they knew it! The fact that this baby lived is nothing short of a miracle. She did have some bruised legs, but considering what went on, that's nothing! Can you believe it? God is amazing. I keep going over the situation over and over again in my head, not able to wrap my mind around it. I guess that's the definition of a miracle, though.:-)
Tufa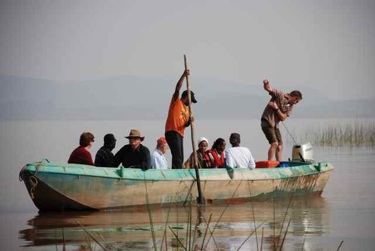 SIM had an irrigation project in Tufa, an area across the lake from us. It was finally completed and was being given over to the community, so the government held a big ceremony for the handover. Shane and some other SIMers went by boat -Shane drove it. It was actually quite hilarious watching them try to leave. The engine kept dying, Shane was soaking wet in his nice clothes from having to push the boat out, they kept getting stuck in the reeds… and the whole time Mulatu our pastor was singing at the top of his lungs. They somehow managed to get there in one piece.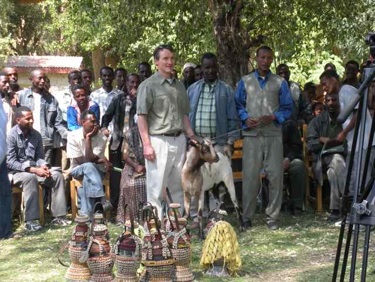 Steve, our SIM director was given a goat as a thank you at the ceremony. Shane was introduced as "Mr. Allyson". Then, when they went to turn on the pump to officially turn the project over and end the ceremony, the electricity went out and nothing worked. Awkward. Everyone finally left and they were able to start the pump the next day once the electricity was back. Gotta love it!
Horses
We have 4 horses that we are using to do community health and home visits. After driving entirely too much this past year, we tried to come up with a way to limit that stress… the solution was to get horses! Although keeping horses is a lot of hard work and a steep learning curve, they have proven to be very useful. Many of the clinic staff, Mana Abdii staff, camp staff, and even our pastor use them to get out deeper into the community. It has definitely cut down on the amount of driving we are having to do – not only saving us time, but also saving us on gas. Of course, the kids are enjoying having horses around Langano, too.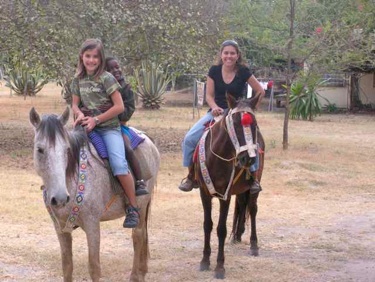 Wetzel Goodbye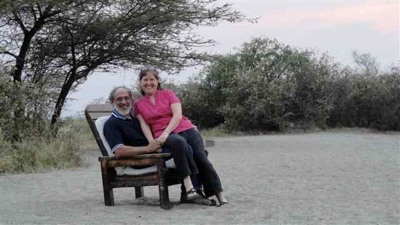 We were so sad to have to say goodbye to our teammates, neighbors and mentors, Jake and Sarah. What a joy it was to do life with them and learn from their years of experience. They were able to come back for 2 weeks to pack everything up and say goodbye. Those weeks were wonderful! God seriously multiplied their time and allowed them to accomplish / experience everything they had hoped to and more.
Sarah loves to write and we had often talked about her being a "guest writer" on our blog. Right before she left, she wrote this up and asked for it to be put on our blog. Thanks Sarah! It's a fun glimpse of a day here at Langano:
Yesterday I woke up with my inner motor running. Get going, Sarah – only 4 more days before we leave Langano. I remembered that today would be my last chance to shadow nurse practitioner Allyson at the clinic. Nah, I don't want to go down there, it's too late now, I need to start disengaging. But I'd promised Mia to meet her near the clinic to ride horses mid-morning so I might as well go with Allyson for the first hour. I put on my skirt and packed my little daybag with water and camera and long pants for the horseride.
I loved walking to the clinic with Allyson. Her long brown curly hair was wet from the shower, and her cute little flowered skirt showed under her white lab coat, with its bulging pockets (You can learn a lot about a person by studying the contents of their pockets. Ally had pens, keys, a stethoscope, a little medical reference book, hair doodads and other stuff overflowing the edges of her pockets.) It takes about 8 to 10 minutes to walk the ½ kilometer to the clinic, depending on how many people you meet along the way. The road was clear.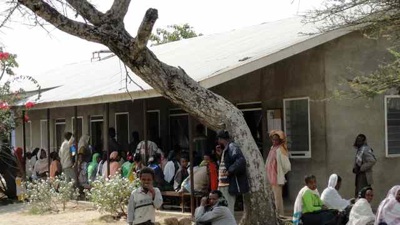 The view of the clinic from our road is another great memory. The clinic is a cement block line of rooms, 5 or 6 doors open out to the long tin-roofed porch, where metal benches are daily crammed with colorfully draped bodies. Under every acacia tree surrounding the building, many more people sat waiting. Happy pregnant ladies with their sisters. Sick babies. Children with gunky eyes. Listless, feverish adults. All eyes turned and watched Allyson and I walk through the sparse trees and step up to the porch. 'Acum, acum.' we greeted as we pass by.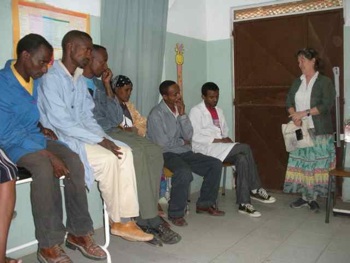 Every morning the clinic workers (There are about 15 of them: 2 missionary nurses, with several Ethiopian nurses, translators, office men, pharmacy and lab and cleaning workers) gather in the main examination room for Bible reading and prayers with the local pastor Mulatu. Allyson opened the metal door and a circle of faces turned and welcomed us quietly, nodding, smiling and making room for us in their circle. I returned their smiles, these people are so precious. Because of Short Term nurse Kara, last year, I know the names that go with the faces and it was wonderful to see them all together here in this room. Secretly I took lots of photos, and during the final prayer, God gave me the idea to stand up and say goodbye. I was grateful I had the chance to tell them that I love them and I will miss them and I will pray for them. The photographs will help me keep my word.
Then the day's work began. Sitting beside Allyson, as she interacted with patients, was so cool. We chitchatted while she charted and measured pregnant bellies, and then I realized – bummer! I haven't seen Allyson deliver a baby – and that is her specialty. We talked about it and hoped for it together. "Call me, day or night," I told her. But what were the chances, I only have 4 more days.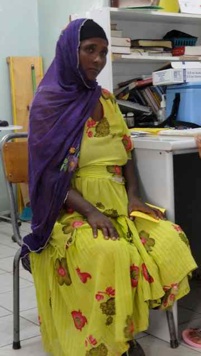 I loved sitting in the corner, taking discreet photos. The women's bright and funky-patterned flowing clothing (Allyson had to maneuver her baby's heartbeat doppler around 3 dresses layered on one young girl) and their shy smiles are so attractive. I am grateful that it is culturally okay to stare. (Although I hate it when I am being stared at!) It was fascinating to watch Allyson and Kim consult about some little twins that Allyson had delivered 2 months ago. In my eyes they looked way-too-tiny and boney to survive, but she was happy to see they had improved. I also watched another nurse clean a wound on Halkane's hand; she was bit by a dog at the container bridge. She is the mother of Daniel and Temesgin, Moses' friends. She has 6 children. We fear rabies.
Mid-morning, I heard "Aunt Sarah!" from outside. Out the metal door, over the heads of all the waiting people, sitting on a small horse in the sandy clinic driveway, was Mia, Allyson's 10-year-old. "Come on, Aunt Sarah. Your horse is ready!" the little adventurer invited me. She had begged me the day before to go riding with her, so after I traded my skirt for the long pants in the bushes behind the clinic, I climbed disgracefully on a docile grey, freckly horse. As we rode by the clinic, Allyson stuck her head out and yelled over the patients' heads, "There is a lady in labor." Super. Maybe today I will see Allyson deliver a baby!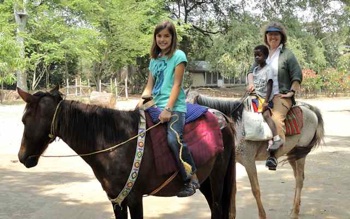 Scout and Gandalf, our horses, seemed totally bored. We forced them to plod around the 1k loop. Actually it was peaceful, sitting on the back of a horse and sauntering around our property. We rode up to the camp dining hall to find Jake, and Moses climbed on with me for the return ride to the clinic. After the horses were unsaddled, Mia tried to brush them, but they were happy to run away. We followed them a while into the bush, then we rested, bird watching, under the shade of a large acacia by the river. Well, I bird watched. Mia tried to catch and milk a black goat. Then we walked back to the clinic to see what was happening with the labor patient.
Amazing! A young Muslim girl was laboring hard. For the next 3 hours I was enamored, watching Allyson and her little assistant Mia, encourage the first-time mother and her 'birth sisters.' The women were on the floor, the labor patient lying on a mat on her side, the assisting sisters took turns sitting on the floor, close to her, intertwining their legs, locking their arms, laboring hard together, mostly covered by a big thick blanket. The only way I knew there was a contraction was a small moan from the little mother, and the way the assistant's face tensed up. During one the contractions, a black curly-head popped out, then quickly a big baloop! and a purple baby slipped on to the mat, into the world. He immediately yelled out his opinion of it all.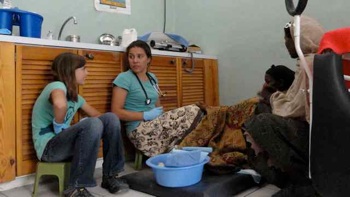 Allyson clamped and cut the thick, wavy cord and then the baby was lifted to a towel on the counter. While Mia wiped him up and gave him to the birth sister, Allyson cared for the new mother. She wrapped the cord around the scissors and pulled, and with a second baloop, the placenta landed on the mat, almost as big as the baby. She put it into a blue plastic bowl and gave me an unforgettable anatomy lesson, all the parts of a placenta. I have given birth 5 times myself, but I never saw a placenta. I was choking up inside. This was so miraculous, such a gift from God, the whole birthing process and the miracle of a new life. And the fact that He arranged this for me to see with such a guide as Allyson made me feel so special.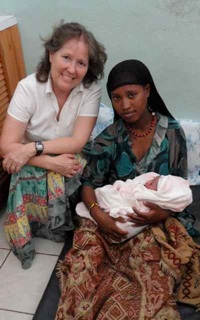 The baby's cries were heard outside on the porch and people were passing smiles around. 'It's a boy!' (Boys are preferred in this culture. Would they be as happy if it had been a girl?) A short, older woman marched into our small room, arms stretched high, face upturned, then bowing, she took my hand and kissed it, then gave me hers to kiss, and back and forth we handkissed. Then up-stretching her arms and face again, she loudly thanked Allah. Three women sat on stools around the new mom, their chatter and arm-raising joy filled the room. I would give a lot to know what they were saying.
Allyson and Mia bathed the little cone-headed newborn, dressed him in some donated baby clothes, and gave him to his mommy to nurse. I took photos, then said goodbye. The women sat there for a couple of hours, I guess, then made their way back to their thatch huts and their hard and dusty daily lives. I wanted to praise God with them, so before I left I asked permission and then thanked Him for this safe delivery and asked for His blessing on this baby's life and his family.
By then it was almost 4 in the hot dry afternoon. My body longed for a shower, some aspirin, and a long sit, but my heart was happy-heavy and in my spirit I was bowing down, worshiping God, grateful. I had not stayed home. I had followed God when I reluctantly followed Nurse Allyson, and God opened my eyes to see some of the blessings He pours out on the Oromo people through her and the clinic. And lots of the blessings splashed on me! Last night the huge smile in my soul kept me awake for a very long time.
* * * * * * * * * * * * * * * * * * *
The next day's musings: What a privilege it has been for me to live next door to Allyson and her whole family. I love her beautiful smile, her courage and commitment to seek justice, her God-serving energy, her direct way of dealing with problems, and her fun and spunky 'I'm all in! We can do this!' attitude. I may not have lasted as long as I have out here in this remote bush of Africa if the Smiths had not come to join us. Now I am leaving our Langano 'neighborhood' to go live in America. I am sad. I won't be following Allyson around any more, but in my heart I want to follow her great example. And I will be praying for us both, to keep following hard after Jesus.
Langano Sightings…
Quotable Quotes….
"Why do baboons have pink on their butts? Doesn't God know pink is just for girls? – Moses
"I also am amazing." – Man at the clinic after Allyson told him his daughter who had just given birth was amazing.
Sarah (our teammate) – "Moses, when will we get to see Jesus?" (expecting his answer to be in heaven)
Moses – "In 8 days."
Kinda freaked us out – Moses was a prophet you know…
"Dad, let's do some guy things like throw knives at rabid dogs." – Moses
"That doesn't taste like honey – it tastes like doo." – Mia tasting a honeydew melon for the first time.
"Mom, you should try playing Sudoku. It's supposed to be good for old people." – Mia
Dad – "How do people get to heaven?"
Moses – "God picks them up and throws them."
"I think Moses swallowed an energizer battery!" – Yonas
Mia – "I think I have bedbugs. That's my diagnosis."
"Dad, you and mom are still pushing me around in a stroller!" – Hannah (after being told she couldn't go on a double date to the movies)
Mom – "Mo, stop biting your nails."
Moses – "I'm not biting my nails, I'm picking my nose."
Mom to Mia – "No, you can't watch a movie. I didn't even have a TV growing up."
Mia – "Yeah, but I'm guessing you had FRIENDS!"
"Moses, stop chewing on the flyswatter." – Hannah
Mia threatening her chicken – "If you don't start laying eggs, I'm gonna eat you."
Moses – "Mom, when we're in America will I get to knock on doors and say Chuck E. Cheese?" (meaning trick or treat)
Mia to Mom – "Do you think I'm going to fit in when we go back to America?"
Mom – "Of course – you're not weird."
Mia – "What if the 'weird standards' have changed since we've been gone?"
Sarah – "She's just a spitball." (Guess that's a cross between spitfire and fireball?)
Moses, after we went away for a night without the kids – "Dad, why did you just leave us here like dead animals?"
"People pay good money for a mud bath. I get mine for free." – Shane, when mud was pouring out of our shower.
Mia – "Bulls are like big mice with no tails, but with horns and hooves." Ummm… a result of being homeschooled?
Prayer Requests:
-For us to finish strong prior to heading back to the States in June.
-That the two current court cases would be resolved soon and that the verdicts would be fair.
-For strength and encouragement for the team and especially for Yonas.
-For the new pastor who will be replacing Mulatu.
-For Mulatu as his family transitions to a new area.
-For a new School Director.
-For the Scheels as they head back to the States for Dan's medical testing.
Praise:
-Hannah is here for Spring Break – it's been awesome!
-The first session of Bible training went well.
-For a great two weeks with the Wetzels prior to their leaving Langano to return to the States.
-We are looking forward to hosting a team from the Village in April and Allyson's mom in May.