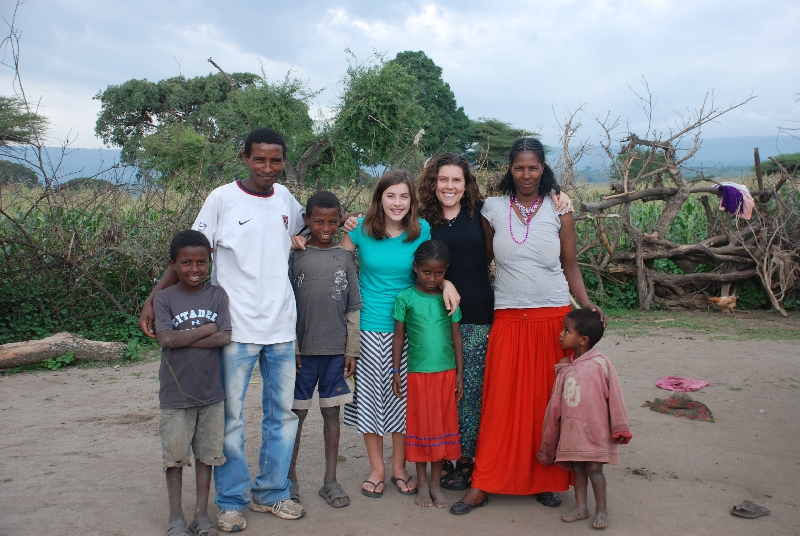 Happy fall! While you are gearing up for some cooler weather, we are looking forward to our bones (hopefully) warming up again! It's hard to imagine that we are cold here in Africa, but it does get REALLY chilly here during rainy season! We try to ration out how much we use our fireplace (don't want to destroy the forest), but most nights we are wishing we had a fire going.
My trip to Ethiopia with Mia in August went really well. The helicopter/medical outreach part of our trip was cancelled at the last minute due to mechanical issues. It was disappointing, but it also gave us extra time at Langano. Seeing everyone again was really great. At first, I was feeling some sort of crazy emotion that I can't even name.. a mix between sadness and thankfulness… but it was really intense. I think it's just hard to realize that such a significant part of our lives is over and that it will never be the same again, even if we were to go back. Teammates have changed (both expats and nationals), our life-stage is different, things like that.  I was able to have a long talk with Dan, one of our former Langano teammates and he told me that he still has the same feeling towards the place where he first began his missionary career. So, I guess my feelings are pretty normal, but it's still a lot to process!
It was hard to believe how much Langano has changed in just over a year! Every year camp seems to go more smoothly and the Ethiopian leaders have take on more of the leadership. We are so proud of everyone! The challenges are still there, in fact in many ways, it seems like nothing has changed at all. The same crazy issues were still the same crazy issues! I think Mia and I were really able to encourage the other missionaries there. We understand what it's like to live in Langano and everything that comes with it. We were able to listen, encourage, babysit, make meals and just enjoy each other's company again. Seeing all of our Oromo friends was just incredible! They were beside themselves about the fact that we had come back. I have never experienced such hospitality! Everyone was inviting us to their huts. One "shamagalay" (older, wise man, respected in the community) stood up as we ate in his hut and said, "How could Shane's wife and daughter be here in Langano and I not treat them as my own. Shane has done so much for us. His family is my family." We experienced that blessing many times over.
Now, back to Kenya, :-). We have embarked on another RVA school year! It's so great to have all of the students back and to be in the hectic RVA rhythm again. There are so many blessings we have received from serving here in Kijabe. The privilege of getting to know these students at such a deep level is indescribable. I love them so much. They challenge me, keep me laughing, and make me crazy all at once! I am mentoring a girl in 9th grade and Shane is mentoring a senior guy. My work at Student Health continues to keep me busy. We are short one nurse, so it means working more hours, but I do love my co-workers which makes a big difference. We also have excellent leadership here at RVA.
I have also had the incredible, unexpected joy, of being able to deliver babies again (with my sidekick, Mia)! I truly thought I had given that up when I left Ethiopia. A missionary from Rwanda had heard about me being here in Kijabe and asked me if I could deliver her baby. That started a long chain of events, working out details with Kijabe Hospital, getting my Kenyan midwifery license, and all kinds of logistics. As a result, I began working some shifts down at the hospital on my days off. You have no idea how great it felt to be back in the "Maternity Department" again! I ended up doing a home birth for this woman in July. Then, last week, I did another home birth for one of our RVA staff. There is a Kenyan doctor (the head of OB) down at the hospital who has been as excited about this as I have. I am able to do deliveries for patients who might otherwise go elsewhere, and now the money will hopefully help the department get some desperately needed equipment.
Sports Friends has gotten so much momentum that Shane is having to intentionally slow things down so he and Lemmy can stay on top of things. I haven't seen Shane this excited in a long time. We hear stories almost daily about how the Sports Friends leaders are seeing life change in the youth, their families and in their communities. God has allowed Shane to lead this ministry here in Kenya at such a special time. So many people work for years in a foreign country and see little fruit. I'm not sure why we get this blessing, but we don't take it for granted!
The kids are all thriving. Hannah is in her senior year and applying to colleges, planning to major in special education. She thought she was sure where she wanted to go, but now she is wondering if she should go where there are at least a few other RVA students. I can understand that desire, especially since we will be on another continent. It could be really helpful for her to have a few people around her that understand her background and where she is from. This summer Hannah did an internship at a school for kids with special needs. She absolutely LOVED it. She was able to teach some of the non-verbal kids some sign language and then connected them with the audiologist here at Kijabe Hospital (she's from The Village, too!). Last week, Hannah got permission to miss school to go be a part of the moment when one of "her" kids, Denzel, got his hearing aid for the first time. It's obvious that God has uniquely gifted her with a heart for kids with special needs.
Mia is in 9th grade now and adjusting to the academic transition from 8th grade. She is up late studying most nights, but is excelling in all of her classes. She made the JV basketball team along with some of her best friends, so it's been fun to watch their games. Mia is a great encourager and is full of life and energy. We are so thankful she is now in a place where she can enjoy these peer relationships (she had no idea what she was missing!).
Moses. He is just Moses – a wonderful mess! He keeps us on our toes at all times. His sense of humor is hilarious and he always seems to be leading his posse somewhere on some adventure. Currently, he and his friends have been playing American Football (tackle), but the problem is that he is half their size. He is in 3rd grade now with a teacher that he says is "the bomb". Academics is still a challenge for him, but thankfully, God had given that boy SO MUCH self esteem that it doesn't seem to bother him at all.
The longer we are on the field, the harder it seems to be able to raise funds for our work here in Kenya. We are low on our monthly requirement (both personally and Sports Friends), so if you know of anyone looking for some missionaries to support, let them know about us! As the year winds up, one time donations can also help us make up that difference. Thanks for your prayers in this.