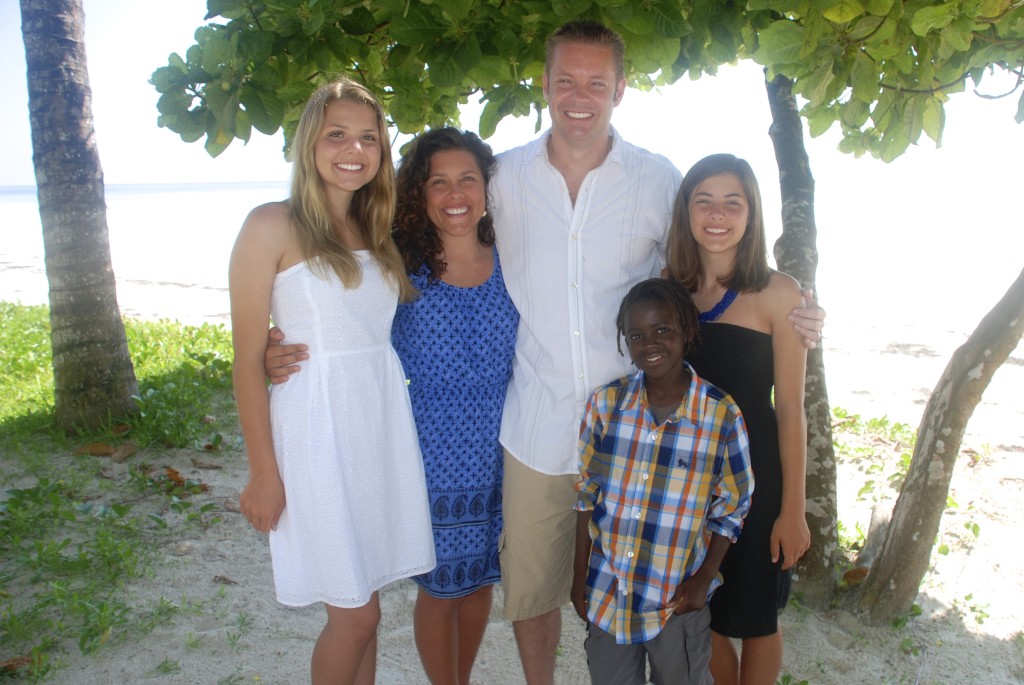 Merry Christmas from a very rainy Kijabe, Kenya!
We hope you have all had a great year full of joy and knowing God more deeply.
As we reflected on this year, we tried to come up with a general theme that we feel God has been weaving into our family… and we can't figure it out! Maybe this year could be categorized as "tossed salad". It sometimes feels like we have two different lives going on here in Kenya…
Our home is in Kijabe at Rift Valley Academy where life is mostly stable and routine, yet super busy, with a great community of people to do life with. We live in the Student Health Clinic building where I (Allyson) work and we basically function day to day in our little greenhouse here in Kijabe. There is a tiny "duka" (store) where can can get basic groceries and there is a vegetable/fruit market a short walk down the road where we can get our produce. Since our family is used to living remotely, the kids and I don't even feel a great need to get out of Kijabe for a break. It has been a stable world of work, friendships, and investing in the future generation. You can literally feel God's presence here in Kijabe. Doing life with these RVA students is rich and full. We all learn mutually from one another and our home is constantly filled with kids who are delighted to be in a home and enjoy some home cooked food. It's like doing youth ministry 24/7 with some of the most wonderful kids in the world.
Then, there is Shane's work with Sports Friends. He travels about 30% of the time and many of the people he works with are in risky areas. While the rest of us continue on with our daily RVA world, Shane is out doing ministry that we can't completely relate to. We are extremely excited about the ministry of Sports Friends, and we know the core philosophy of Sports Friends from living at Camp Langano, but we still don't know many of the people Shane is doing ministry with here in Kenya. We have met a few of his key leaders, but that's it. Part of that has to do with the fact that it isn't safe or wise for Shane to bring our family to many of the places where Sports Friends is working. In fact, Shane doesn't even go to some of those places because it could put leaders at risk in those areas. I think most of you are aware of the ongoing terrorism here in Kenya. The places that are the most affected are the areas where Sports Friends is working. Those are the pastors that need all the support and encouragement they can get as they serve in such difficult areas. The ministry of Sports Friends Kenya is growing so fast and there is so much energy right now. It's really exciting to get to be a part of it.
You can see how our year might be difficult to sum up! It's been a wonderful mix of stability and instability. Added into this is that we are preparing for Hannah to graduate and go to college this year. Our family is also going to be home for a quick home assignment starting in July. Lots to process!
Some prayer requests and praises:
-For our family to continue to grow even closer this year (to each other and also to God) as this is our last year to all be living together.
-Allyson is finishing up the process of getting a permanent nursing license here in Kenya and will be working at Kijabe Hospital this spring fulfilling all of her "hours". Pray that the time will be fruitful for her and also for the staff at KH. Allyson will also still be managing RVA's Student Health Department. A lot to juggle. Praise that the process should be completed by the time we leave in July.
-Pray for upcoming Sports Friends trainings at the beginning of the year and also for the Sports Friends leaders/pastors who are living in the areas where there have been ongoing attacks. Pray that they can lead well and with wisdom as they are ministering to people who have been traumatized and who have many questions about God's goodness.
-Praise that our kids continue to thrive here. We are so thankful for the friendships they have been blessed with. We are also so thankful that everyone has been healthy this year. At Thanksgiving we just "celebrated" the one year anniversary of Moses' hip surgery – he has no long term hip issues!
-Pray for us as we begin to wrap things up here and prepare to head back to Texas in July for home assignment. It's hard to pack everything up and switch gears!
-Praise that we got to go to the coast with friends last week.
Your partnership with us is a gift that we don't take lightly. Thank you for investing in the ministries here! If you want to make an end of the year donation to either Sports Friends Kenya or our support account, you can click on the donation page. If you aren't already a monthly partner, you can use the link for that, too. Have a very wonderful Christmas! Drink some egg nog for us. 🙂