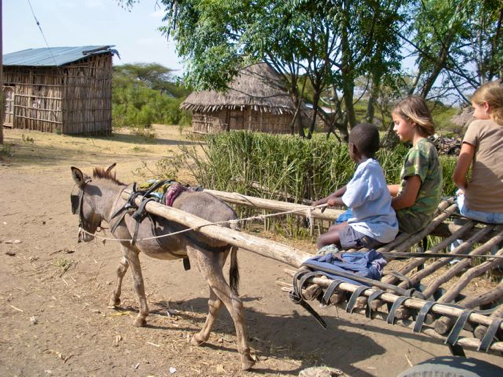 It's hard to believe it is already 2010! We have had a few very full months since being back in Africa after our visit home. We'll try to give you a quick snapshot from the past 2 months…
Remember Hannah's special baby at Manna Abdii, Bedatu? We were worried that Bedatu was going to go home while we were away, but we were happy to see that she was still here. Hannah was able to help her get ready to go back home to her dad. We have since heard that Bedatu is doing very well at home!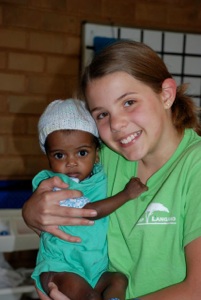 We came back to Langano for about three weeks and then headed to Kenya for a retreat with a team from our church in Texas, The Village Church. The retreat included our good friends from home, the Mendonsas, who are missionaries in Kenya with CURE. The Village retreat in Kenya was a good time of encouragement and regrouping. Thank you to the team that came and poured themselves into our families… Jamie, Randi Rose, Josh, Natalie, Sarah, and Lee. We are so grateful for you guys. And thank you to our church for making the retreat possible.
To everyone at The Village Church: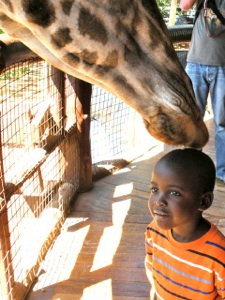 We had two visitors from Texas, A.J. and Carrie, with us over Christmas. A.J. used to be in our home group and Carrie is a P.A. student from Houston. We enjoyed showing them life at Langano first-hand. They were both great sports and pitched in wherever needed. On one of the weekends they were here we took them on a donkey cart ride to the closest town, Alem Bada, to get Cokes. It took the whole day – the things we'll do for a Coke!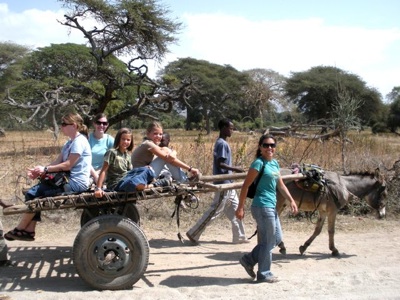 Langano Water Woes…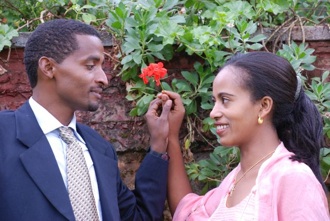 Two of our nurses at the clinic, Abera and Adonach had a great surprise for us a few weeks ago… they announced that they were getting engaged! We thought we were going to their "engagement" ceremony the next weekend, but it turned out to be their wedding! We are getting used to Ethiopian culture being so different from ours, and we are learning to just take things in stride, so we didn't question much at the time. When they started exchanging rings and signing a "certificate", we thought it was just their way of becoming betrothed.
We had heard that in Ethiopia, betrothal was a really big deal. It seemed a lot like a wedding, but we figured this was just how they do it here. When the ceremony was over, we all looked at each other and said, "Did they just get married?" The pastor noticed our looks of confusion and asked us if we had a question, so we went ahead and asked… and… he was like, "of course they just got married!". Abera and Adonach just stood up front and nodded their heads laughing. In Ethiopian culture there is SO MUCH unspoken. We are still a little in the dark on the whole thing, but from what we can surmise, Abera and Adonach basically eloped. They are planning a more cultural wedding ceremony here at Langano in the near future. We are thrilled that they finally saw the light and married each other! They are a perfect match.
We had Sports Friends Level 4 Leader Training the week of Christmas. Shane drove to Addis a few days prior to get supplies for camp. A few hours before he left to drive back to Langano he got sick and started barfing. He tried to figure out another alternative, but he had to get the supplies to Langano that day in order to have them in time for camp. Shane ended up making the four hour drive, pulling over periodically and hurling. Yeshi, our camp cook (and the only other passenger in the car), kept exclaiming "By Yesus! By Yesus!" when she was watching Shane kneeling on the side of the highway throwing up. Shane said on one hand he was worried about getting hit by a passing car, but at the same time he was praying that he would get hit to put him out of his misery.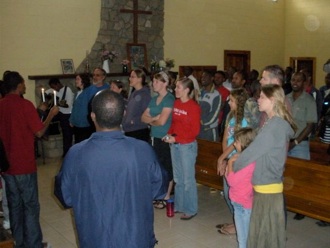 At first we were bummed to have camp fall during our holiday (remember Ethiopian Christmas is 2 weeks after our American Christmas), but it ended up being a really special way to celebrate Christmas. The leaders came and got us the morning of Christmas and told us they had a program for us. We went begrudgingly (in our p.j.'s!), but we were humbled by the graciousness of the Sports Friends guys. They sang some Christmas carols in Amharic and then talked to us about how hard it would be for them to be away from their families on Christmas and how much it meant to them that we were here with them. They had us all in tears. Later that night we were laughing because by the end of the program that morning, our whole family felt committed to stay here forever – how could we ever leave?? Then, just 12 hours later, Shane was barfing his guts up (again) all night long and we were like, "Get us out of here! We can't last one more day!" Ha!
At the end of December, we went to Sodore for SIM's bi-annual spiritual life conference with all of the other SIM Ethiopia missionaries. Philip Yancey was the speaker for the week which was a real treat. It was a great time to get to know the other missionaries better and to learn more about the other ministries throughout Ethiopia.
Our family has also wanted to get better at roughing it and we had our chance at Sodore! People usually look at us like were crazy when we say we're not good at roughing it, but it's true! Yeah, we live in the bush with no electricity, but we have a clean (enough) flushing toilet and a clean (enough) house. We want to learn how to stay in $10 a night hotels, camp on top of our car… stuff like that. Sodore was a great bridge into that world of roughing it! Our room was so yucky complete with roaches crawling on our bed and a grungy bathroom with a thick septic smell. The hotel is located by hot springs, so the water supply is only from the spring. That meant that the only water from the tap was burning hot… so the toilet water was boiling hot, too! When you sat on the toilet, your bottom (what in the world is the missionary-appropriate term here??) would get steamy toilet water on it! We pretty much spent the week with a low-level state of nauseousness, but, hey, we did it… and it was fun… and we made a memory.
The kids enjoyed swimming in the HOT pool in Sodore. Moses discovered that the high dive was lots of fun! He was flailing his body off that thing from every angle and cracking us all up. It was so high that most of the adults wouldn't even go off of it. He is a nut case in every way. We aren't sure where he gets all his energy – maybe he just hijacks all of ours.
A couple weeks ago Allyson had a delivery with a really bad outcome. The mom was already in bad shape when she arrived at the clinic and Allyson did everything possible, but the mom and baby both ended up dying. Of course, the solar was broken at the clinic, so the whole scene occurred in the dark with a headlamp and a candle…
Allyson knew the woman was dying, but it was too late to do a hospital transport and there wasn't any hope of saving the patient. She tried to get the baby out (it surprisingly still had a heartbeat), but it was impossible.
Afterwards, the family got really angry and started to threaten Allyson. They blamed her for not doing everything she could and not driving the patient to the hospital. (It was late at night and we aren't able to drive after dark.) It was crazy – the family all poured into the room, pushing and shoving and wailing and tearing their clothes. Then they started pushing Allyson against the wall, pointing their fingers at her and yelling – disconcerting since they all had spears and it was dark outside. The patient was the sister-in-law of our on-duty clinic guard and he became threatening toward Allyson as well (doesn't help that he carries an AK-47!). The patient's oldest son (about 20 years old) told Allyson he was going to kill her. We ended up having to post a guard in front of our house that night.
About week later, Shane felt like it would be good for him to go to the lixo (memorial service). We weren't sure it was safe for Allyson, but he went on behalf of our family. Shane attended the lixo with a couple of Ethiopian friends and was able to talk to the husband. The husband told Shane that everything was okay and he wasn't angry with us. He went on to say that he was grateful that Shane came to the lixo. Shane finished the visit by eating with some of the family members (the food is more life-threatening than spears 🙂 Now, three weeks later, things have settled back down and the family has had time to process their loss.
While Shane was at the lixo, Allyson was at the clinic delivering another baby. The delivery was going well until the shoulders got stuck… after a few minutes she was finally able to get the baby out and the baby did okay. It was pretty stressful and it sure wouldn't have been good to have two bad outcomes in a row. We thank God that this next delivery ended well.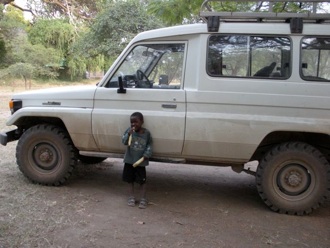 After a year of being in the market for a car, we finally have one! It is hard to find cars to purchase here in Ethiopia – if the car is less than 10 years old, you have to pay 200% duty on it. So, we are now the proud owners of a 15 year old Land Cruiser. It is so wonderful to have wheels and to have the ability to drive for groceries when we need them (even though grocery store is 4 hours away!). The day after we bought the car, we got run into by a donkey cart – go figure. Too bad they don't require insurance for people who drive donkey carts. Guess that's just life with a car in Ethiopia.
Langano Sightings…
Quotable Quotes…
Shane, debating whether or not to take a shower when we had the worm invasion – "I would rather have a cold shower than a worm one!"
"Every animal has a little bacon in them somewhere." – Josh Drew contemplating the possibility of beef bacon.
"I need the day off because my cow's uterus fell out." – Negawo, one of the translators at the clinic.
"Nice costume!" – Moses to our teammate Joan when she showed up at our house before heading to church… in her normal clothes! Embarrassing.
"I am concerned because when it's very cold outside I get bumps all over my arms." – Patient at the clinic describing her terrible case of goosebumps.
"How many cows for her?" – A random Ethiopian on the road asking about Kara, one of the American nurses here.
"Legs and all, please…" – Mia to Allyson as Allyson was pulling an embedded bug out of Mia's toothbrush.