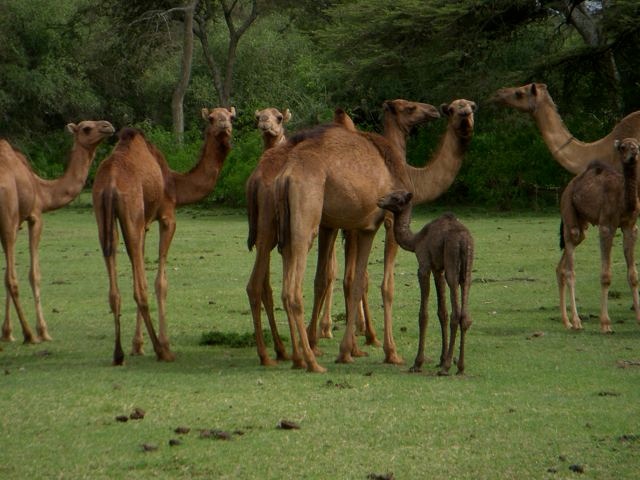 It has been so busy around here that we can barely keep up. We have had lots happen since our last update, so we will try to get you caught up on life at Langano…
Some of our biggest (and saddest) news is that Mary, the kids' homeschool teacher, had to leave suddenly because her mom was sick and she won't be returning to Langano. It was a shock to all of us, including Mary. Mary had really become like family to us, so we were so sad to see her go. It's hard to believe she is really gone. It all happened so fast. We miss you, Mary!
So, Allyson is now officially a homeschool mom. Right before she left, Mary gave Allyson a crash course in homeschooling and we started the next week. It hasn't been quite as bad as we thought it might be. Allyson is surprised to be enjoying it as much as she is. The hard part is that it is next to impossible to both homeschool and work at the clinic. We are still working to try to find a balance that works for everyone.
For science we have really been trying to take advantage of all the wildlife around us. Last week Aunt Sarah found a bird that had just recently died, so we changed our school plans for the day and dissected the bird. We happened to have a book that showed the anatomy of a bird's digestive system, so we used that as our guide. We also used the Ethiopia bird book to identify what type of bird it was.
It looks like Hannah may be boarding at Bingham Academy in Addis for the first half of her 8th grade year. (We will head home in December). Bingham is opening up their boarding program next fall, so it will be a good chance for us to give it a trial run. Hannah is begging us to allow her to go, so we are thinking it might be a great solution to our schooling needs, since it gets harder and harder to homeschool in the older grades. Allyson can barely do 7th grade math as it is!
Math equation from last week:
New homeschool mom + hormonal preteen + 7th grade math = *#@(!!(#*$*!!
We have some breaking Langano news! It looks like we may be getting electricity within the next month or so. The poles are here and Shane picked up the transformer a few weeks ago. It weighted almost 2,000 lbs and we were just glad the container bridge didn't collapse! We are waiting on the electric company to put up the poles. They told us last week that we would have electricity in 2 weeks. We'll believe it when we see it, but it looks hopeful. It will be incredible to have camp this summer and not have to worry about our generator breaking. We can hardly imagine what it will be like to have electricity… a blender, mixer, lights beyond 7-9 PM… yahoo!!
We had a funny incident with Moses a few months ago. We were driving to Addis and stopped in a town called Mojo to pick up some bananas. We let Moses out of the car to walk around for a few minutes – he didn't have his shoes on. Anyway, when we got ready to head out again, we pulled him back into the car and these local people ran up asking us what we were doing. We told them that he was our son, but they kept insisting that we were "stealing" him and that they knew the family he was from. The whole thing was pretty funny, but these people were getting really worked up and trying to pull Moses back out of the car. Finally, we thought that maybe if we could prove to them that he is an American by getting him to talk, they might believe us. Allyson said, "Moses, talk to them."… and he started talking to them in Oromifa! Wrong langage, dude. They started yelling that that he was Oromo. The situation only escalated at that point. We finally had to just drive away with them all yelling, sure that we had kidnapped an Ethiopian kid from Mojo!
We have experienced shortages of some critical supplies lately. The worst was when the entire country was out of butagas for 2 months! Since we don't have electricity, we use butane (butagas) to run our fridge and stove. So, we were without a fridge and stove for almost 2 months out here in the middle of the bush! It was TERRIBLE. We were cooking over an open fire and eating lots of fish from the lake. Our friend/teammate Kara was still here during that time and she helped make the situation more fun by inviting us to eat at her campfire. We ate some surprisingly GOOD food, too! But it was a big pain. We have also had shortages of sugar, butter, Coke, and diesel. What in the world?
Allyson went to Kenya in February for the CMDA (Christian Medical and Dental Association) conference. She went with her friends and co-workers Kim, Laura, and Jeanie. It lasted 10 days and gave her a bunch of the continuing education hours that she needs to renew her license. Shane stayed back with the three kids, and it was during the time we had no fridge or stove! Is he a saint or what?
Many of you know that we have been looking for an Ethiopian camp manager since the fall. We hired Yonas a couple months ago and he is wonderful! He and his wife, Beza, live right across from our house. Yonas really is the perfect man for the job. The Ethiopian staff loves him. He has such wisdom and a great way with people. He also loves kids, so Moses is thrilled to have another person to hang around with. Last week it was almost dinnertime and we were wondering where Moses was. Then we saw him riding up to our house on a horse with Yonas walking beside him! Moses had told Yonas he wanted to go ride a horse, so Yonas went out in the community and found someone with a horse that they could borrow. It was a funny sight. Yonas and Beza recently found out that they are expecting their first baby, so we are all excited to have a new baby at Langano in the fall!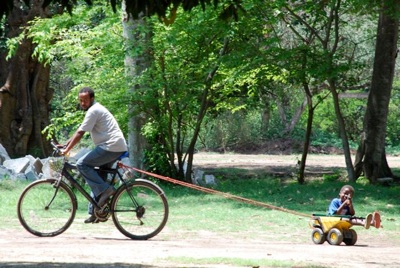 We had an impromptu visit from some staff members from our home church, The Village Church. We had a great time showing Jamie and Jeremy around Langano. They were able to experience some of the great food we get to eat out in the community. 🙂 They also finished out our kitchen ceiling while they were here, so now the bat urine is gone! It feels so much cleaner. Thanks guys. Thanks for all the late night laughs, too! It did our souls good.
The hippos are back at the lake, which has made it harder for us to get fish lately. (The fishermen won't go out when the hippos are around.) It also makes for some interesting swimming. We have had to tell our kids to get out of the water because the hippos are getting too close more than once.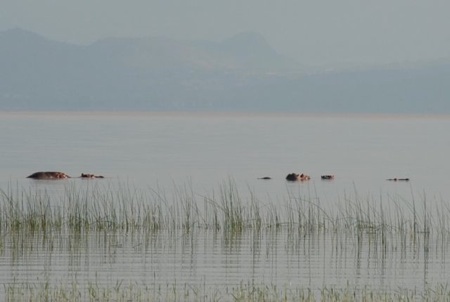 We recently had a grader come out to Langano to clear a couple new soccer fields here at camp. They also graded the road into Langano which was a big community event. Everyone was so excited because our road is so bad, people often get stuck. Moses was in high heaven getting to ride around on the grader for a few days.
Over spring break, we had a full Sports Friends camp. Liberty University brought over a group of about 20 students to help put on the camp. Hannah, Mia, and Moses really enjoyed spending time with the college studenta who were really sweet to include them in so much. What great role models for our kids!
It's always a blast to have repeat visitors. We have gotten to know quite a few people from their visits to Langano. This time we were thrilled to have the Sassnetts and the Bocks come spend a week with our team here at Langano. Mike finished tiling our house and also put in a beautiful backsplash – THANK YOU, Mike! Bill is a cardiologist and was able to consult on many of our cardiac patients, and JoAnn is an ER nurse, so she helped out at the clinic, too. Tamea put her counseling skills to work – we're pretty sure she had no idea how busy she would be with all of us nut cases! You know when certain people are just a complete blessing in every way? Mike, JoAnn, Bill, and Tamea came at a time that we really needed some encouragement. They spent a bunch of time with our family and just poured into us. We are so grateful for the time they took to play with our kids, give us wise counsel, and just be a listening ear. We love you guys and look forward to your next visit.
The Baylor Nurse Practitioner team came again in March. This is always one of the highlights of the year. This time we took them out to do a mobile clinic one day in Tufa, a town about 2 hours away. It rained the night before and the roads were CRAZY. Even the Ethiopians in the car were telling Allyson not to keep driving, but Kim was ahead of her in another car, so there was nothing to do but keep following. It was basically like driving down the middle of a river for miles on end… and the windshield wipers were broken! It was quite an adventure.
In our last blog, we posted pictures of our water woes at Langano. We obviously posted too soon, because we had yet another water incident a few weeks ago! Mia was taking a shower and commenting on how gross the bottom of the shower was from Moses who had just showered right before her. She couldn't believe all the dirt that had come off his body. Then she got out of the shower and we looked at her face – there was mud dripping down it! That's when we realized something must be up with the water… here are the pics!! It was disgusting!
Moses has a new hobby – filleting fish. He goes down to the lake almost daily to buy a few fish and then proceeds to set up shop right outside our front door. It is a very smelly hobby. (Although, it is not a gross as last week when we found Moses carrying around a goat lung.) One of our guards, Genamo, has helped teach Moses the art of filleting fish.
Have you ever been woken up at night by camels?? It's the latest thing around here. The Karayu people of Ethiopia are a nomadic tribe and a couple of times each year they travel through our area with their herds of camel. Seriously, there are camels everywhere! You should hear them at night – they sound like men wailing around a campfire or something. Weird description, but it's a weird sound – that's the best way we can describe it. We are thinking we should open up a Langano safari!

Langano Sightings…
For Valentines Day, Kara and the kids surprised us with a romantic picnic in the woods…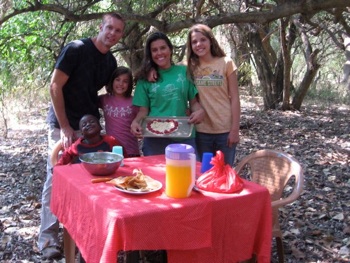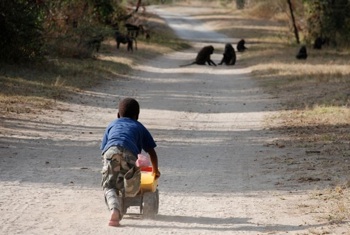 Quotable Quotes…
Moses, inviting some other missionaries to come visit Langano – "Ben, you can come shoot baboons and warthogs… and Kelly, you can wash dishes with my mom."
"I told him if he doesn't start behaving better, I'm gonna shoot him!" – Yonas, the new camp manager talking about firing someone. ("shoot"/"fire" – not quite the same meaning in English)
"Are you from the Banana Republic?" – Short termer to Shane in reference to the shirt he was wearing. Yes, it was a serious question.
Moses to Allyson – "I want a baby brother. Can we get an American one?"
"Hannah just flushed." – Shane to Mia as Mia is standing in the shower wondering why the water stopped. This conversation happens with EVERY shower. It gets old.
"I wish I had a waterproof book." – Mia standing in the shower as she is halfway through, waiting 10 minutes for the neighbors to stop washing their dishes so the water will come back on and she can finish.
"We need our own anteater!" – Hannah upon finding yet another ant invasion.
"You need to run to the Jesus Christ. Not to the left, not to the this way, but straight to the Jesus Christ. He is the pointer and perfecter of our face (faith)." – Evangelist at our Langano Church
"There is a shortage of cleanliness." – one of the Ethiopian nurses explaining why it is even hard for him to eat in the local huts.
Abera, after his wedding ceremony – "I'm not a butcher anymore." (he meant bachelor)